I've been a customer of HSBC since 1999, and while that doesn't account for much these days, I grant you, I'm also a blogger that regularly gets 250,000 to 1 million views to posts I make in respect to digital banking, bank strategy and bank customer service issues. So you'd think that HSBC would be maybe a little bit more careful about screwing with me when it comes to my accounts. Apparently not.
On the morning of Black Friday as I took a car home from JFK airport I attempted to use my HSBC Debit Card attached to my business account and was told it was declined. This surprised me, but I assumed it was some sort of a fraud hold, and not actually any real problem with the account. So imagine my surprise when I rang the call center a couple of hours later and was told they couldn't help me because my account had been closed!. I was shocked, the account had had no issues of fraud, I hadn't once gone into overdraft in the history of the account and I hadn't been notified of any issues, I certainly hadn't been notified of the account closure, so how could this happen?
My first Tweet on the issue was at 3:33pm.

I rang the call center number on the back of my HSBC Business Debit Card which got me through to the local U.S. call center. The CSR (Call center Representative) let me know the account had been closed and transferred me to "someone who could help me" — apparently this is a euphemism for "someone that will read from a call center script on a screen and not have any way of helping you." So I was transferred and escalated to a call center team in Calcutta, India to a department called the "Exits Team". This is a team whose job is apparently to deal with irate people like me who have had their account closed.
Throughout the drama I various tweeted @HSBCUSA, @HSBC_Press, @HSBC_UK_Help and other HSBC labelled Twitter accounts, but have not got a response as yet.
The first CSR in Kolkata (Calcutta) was named Cecilia (#H44101) and she explained that HSBC had sent me notification in September. In September of 2013 it was reported in the Wall Street Journal that HSBC had informed some of their small business clients that after a strategic review and would start to shut down those accounts by November 8th.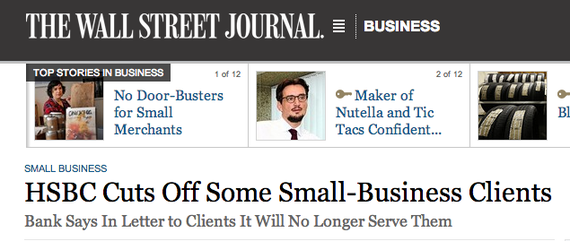 So I asked the HSBC rep if they had sent notification to my address on West 31st Street in New York.
"No Sir, we have a different Address on file," said Cecilia
I asked if it was my Address at Five Penn Plaza that I had changed with the bank 1 year ago, and she said "Yes, sir that is correct."
When I asked why it is that HSBC had sent a notification of pending account closure to an old address, she explained, "That's the address we have on file, sir."
I then when to my filing cabinet and pulled out the copy of the Change of Address Form I had submitted at my 2 Park Avenue South Branch of HSBC in Manhattan and referred to that form. She explained that probably the reason HSBC still had the old address is because I had not submitted sufficient documentation for the change to be successful — so I asked how would I know that the address change had failed because HSBC hadn't called me? She replied, "We would have sent you notification to your registered mail address sir."
At this stage we had established that:
My account was closed without a call, text, email or notification via Internet Banking which I use daily
HSBC sent notification to my old 'registered' address that hadn't been used for 1 year
I had changed that mail address, but for some reason that change wasn't processed
I was informed by mail to my old address that my address change hadn't been accepted
I then asked the CSR if they could at least reinstate the account for 30 days to allow me to pay my staff this month and set up a new bank account.
"No sir, there is nothing we can do about your account closure, we've already sent you a check with the balance of your account," said Cecilia.
"Where did you send that check?" I asked.
"To the address we have on file sir," commented Cecilia without any hint of sarcasm or humor.
At this stage I asked to escalate to a supervisor to see if they can help me. I was told that the supervisor would be of no more assistance and if I needed to I could email the customer service email address with my request for assistance. I made clear that wasn't acceptable and finally after a 10 minute hold was transferred to the Floor Supervisor named Lhakpa (#L70615).
I had to explain my situation to Lhakpa from scratch and she confirmed that notification from the bank regarding my account closure had been sent by mail. When I asked why mail was sent to the wrong address, she simply repeated the Mantra.
"We would have sent you notification to your registered mail address sir."
When we, once again, established this was not my office mail address and that HSBC could not reinstate my small business account, I asked Lhakpa what she does when she can't resolve an issue for a customer like me and who we could escalate this too, but she had no answer for me.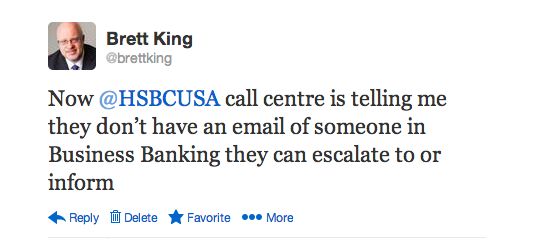 I took her through the process I was familiar with from my own time working with HSBC's call centers in Dubai and Hong Kong and I eventually got her to agree that she could escalate internally via email (or the 'internal communications system'). So I asked her who she would email with this problem? She said she couldn't tell me. I offered her an email for a HSBC staff member that was a friend of mine that she could send the information too, and she was completely stumped.
I asked her what was the reason the account was closed — had I done something to trip the fraud or risk guidelines?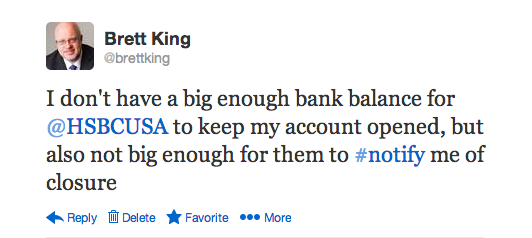 Lhakpa read from a prepared script (I know this because I asked her if she was reading it and she said yes, she had to, she wasn't allowed to put it in her own words) and she explained that due to a
strategic review, HSBC had determined that there were many small business accounts closed due to not being international or multi-national in scope, with too small a balance or not enough transactions"
. I asked her whether this justified closing an account without notifying the account holder and she said "but we sent you the mail sir." At this point I asked to speak to her supervisor:

Her supervisor wasn't available, but she assured me he would attempt to call me back within 2-3 business days. I said that clearly wasn't acceptable and asked how we could escalate the request for the supervisor to return my call, or didn't she think this was important enough to escalate?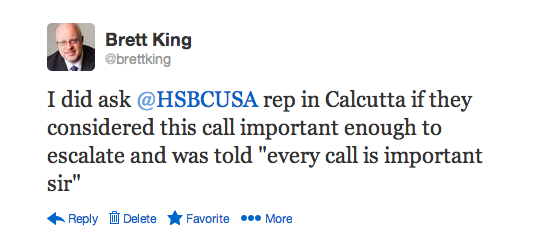 In the end the supervisor called me back about two hours later (that was very high priority I was assured). The Senior Floor Supervisor was named Nihlanjo, still based in Kolkata. Nihlanjo offered the following solution:
Go into a branch and change your address (again),
We'll then be able to send you notification of your closed account,
We'll be able to cancel the check we've already sent you, and
Once that is confirmed we'll send you another check with your funds
I asked how I was supposed to visit a bank branch at 6pm on #BlackFriday or whether he could tell me of a branch that was open and Nihlanjo didn't have any answers.
I then explained that I was a blogger and commentator on the banking industry and was taking notes to record our conversation and the progress we were making, and he said he was now going to hang up.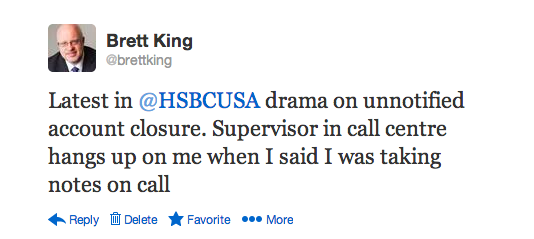 While clearly this was a failure in process and a breakdown in communication, the fact is that my account should never have been closed without notification, and when this error was raised, there should have been a process to at least reinstate the account in the short-term — but there was none.
What was perhaps more surprising was throughout this process I was tweeting to @HSBCUSA, @HSBC_Press, @HSBC_UK_Help and any other HSBC Twitter account I could think of, but as of the time this report is going to press, I've not had the courtesy of a response.

This is not a story simply on a customer service failure, or a communications failure, but the story of an organization who has not yet realized it is the 21st Century. When a critical communication on an account closure is left to snail mail, and that mail is never received, the assumption that the bank has done all it can reasonably do to inform the customer is just slack. When presented with multiple opportunities on Social Media and via the call center to offer assistance, but not having the ability to fix the problem except in a branch (which is closed), then those channels have simply cost the bank money, and not offered any help at all.
What is worse is that throughout this entire process no one actually apologized for closing my account, and potentially disrupting my business or the lives of my staff. It was always assumed that they had the right to close my account, and the fact that I hadn't received their mail was my problem.
Hopefully after this blog, they might reconsider that. God help other small business customers who don't have access to The Huffington Post to voice their grievances.
Update: On Monday, the 2nd of December, I received a call at 6pm from the Regional Director of Business Banking who said they had reviewed my case and decided to reinstate my account – the reasons given were that I was also a Premier Customer of the Retail Bank and had other Business Banking holdings internationally.
In respect to other small business customers? HSBC promised me a change in communications strategy and said new emails had already gone out to many customers from the Head of Business Banking, and they would endeavor to help those customers transition. They also said that the @HSBCUSA account was not an 'official' HSBC account, but they recognized that they needed to be more responsive to social media interactions and would be reviewing their strategy on that front.
Tune into Breaking Banks Thursdays at 12 Noon Pacific Time on VoiceAmerica Business Channel with your Host Brett King.  Listen to this weeks episode "Will Financial Advisers be replaced by the crowd, and how does technology change the way Gen-Y's plan investment and saving?" Also listen to past Shows On Demand.